Throughout 2023-24, the Australian Bureau of Statistics (ABS) is undertaking a comprehensive review of the Australian and New Zealand Standard Classification of Occupations (ANZSCO), a system that describes and categorises occupations within Australia and New Zealand.
These occupations are included in the census to gather information about the workforce. This information is then used to inform decisions made by all levels of government in Australia, including about industry support, workforce strategies, tax breaks, apprenticeships and traineeships, skilled migration lists and more.
It is important that the ANZSCO is accurate, so that it can be used to properly understand and support workforce needs.
Occupations are being reviewed by focus area, with the current round featuring occupations across most of the industries Skills Insight works with, including agriculture, horticulture, forestry, fishing, aquaculture, meat processing, racing and breeding, animal care and management, furnishing, textiles, clothing and footwear. Other occupations relating to these industries may also feature in previous or future rounds of consultation.
Stakeholders can provide feedback on the ANZSCO concerning incorrectly described occupations, inappropriate skill levels, and occupations that are not yet classified (new or emerging).
The ABS is particularly interested in understanding:
what occupations have evolved, been replaced, or changed?
whether skill requirements shifted over time?
if there any emerging fields or unique jobs that you believe will shape the future?
You are welcome to provide input either directly through the ABS website or by contributing to a submission being prepared by Skills Insight.
As a Jobs and Skills Council (JSC) Skills Insight is invested in improving workforce, skills and training outcomes for the agribusiness, fibre and furnishing industries. We want to support your input into the review of the ANZSCO so that it accurately reflects your workforce and enables solutions to workforce challenges.
Our submission will be based on industry consultation and the way the qualifications framework interacts with ANZSCO classifications.
To contribute, get in touch at [email protected] or 03 9321 3526 by COB Monday 20 November.
View our online information session
To help our stakeholders have their say on this round of the ANZSCO review, Skills Insight hosted an online information session with input from the ABS.
The session included information about the ANZSCO, how it relates to you and how to provide feedback. There was also a Q&A section for stakeholders to ask questions of both Skills Insight and the ABS.
Occupations Under Review
Below is a breakdown of the occupations under review as part of round 3 that relate to the industries Skills Insight works with (some occupations may be relevant across multiple industries).
You can click through to the ABS listing for each occupation, where you will find details about the occupation, including its assigned description and skill level. If you believe any of this information is incomplete or inaccurate, you are encouraged to provide this information either directly to the ABS through their survey or to Skills Insight for inclusion in our submission.
For a full list of industries under review, visit the ABS consultation hub.
A note on ANZSCO
skill levels
Each occupation within ANZSCO is assigned a skill level, reflecting the range and complexity of the set of tasks undertaken in the occupation. Each skill level provides an indication of the formal education and training, experience in a related occupation, and on-the-job training required to competently perform the set of tasks required for that occupation. The image below was developed to outline the five broad skill levels used in ANZSCO. For more information see the ANZSCO website.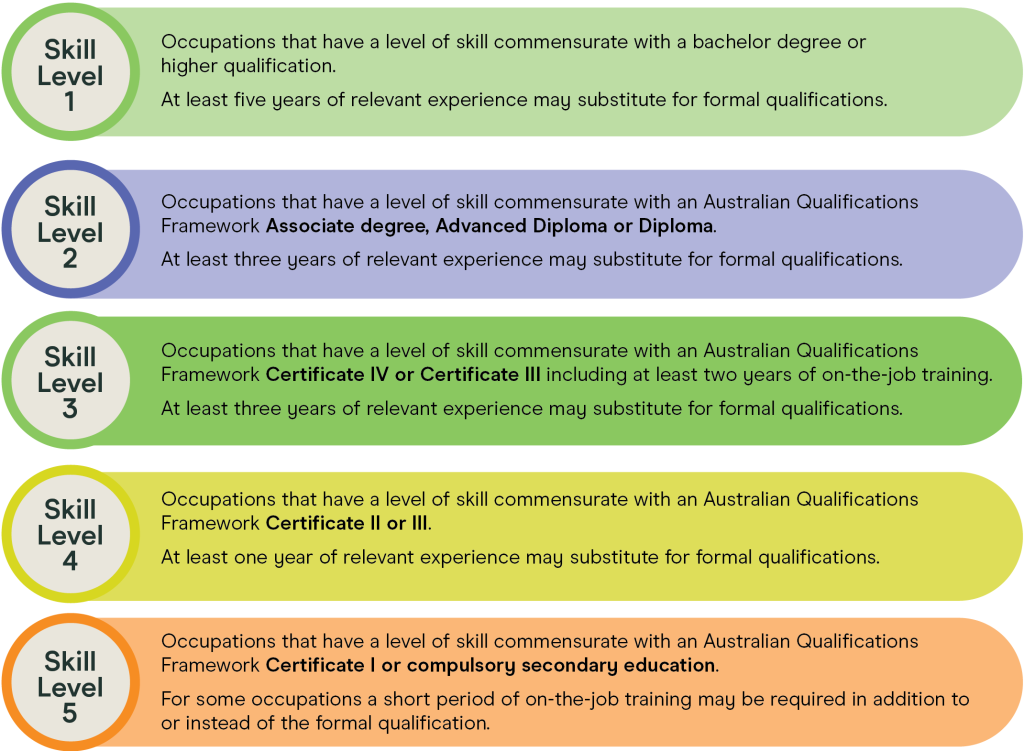 What is ANZSCO and why is it important?
The Australian and New Zealand Standard Classification of Occupations (ANZSCO) is a method of classifying occupations within the Australian and New Zealand labour markets.
The Australian Bureau of Statistics (ABS) assigns each occupation a title, description and skill level. These occupations are then included in the census to collect information about the workforce.
This information is then used by all levels of government in Australia to inform which job roles receive government support and the kind of support they need.
The data collected in the ANZSCO provides guidance for decision making related to: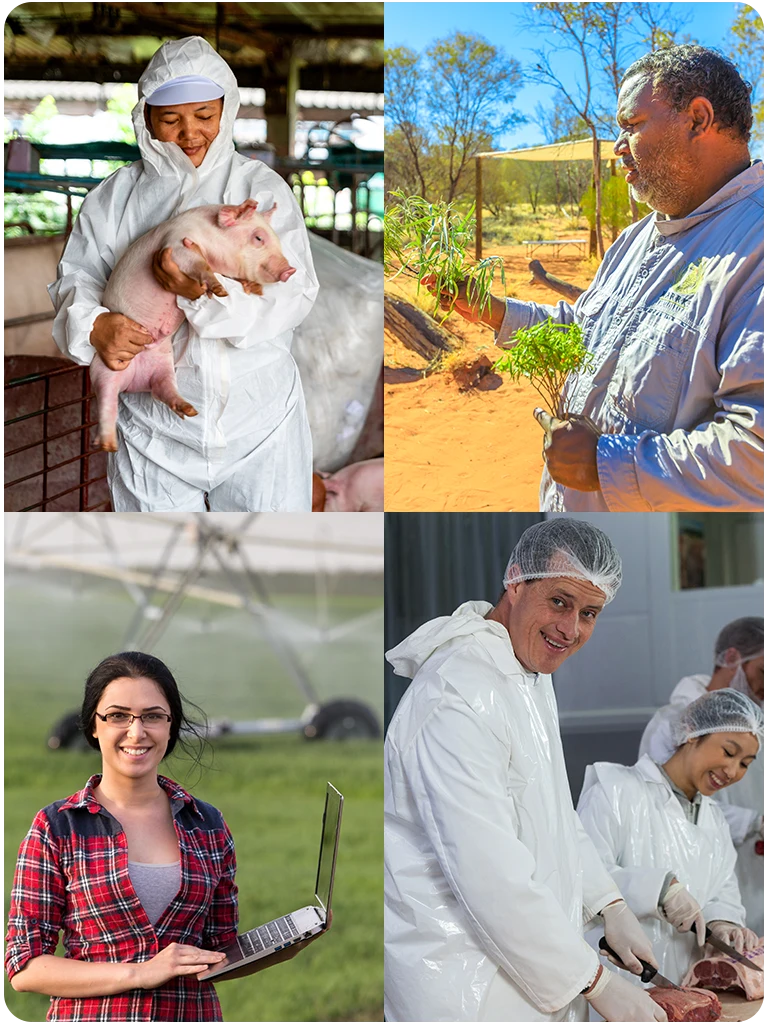 Previous Submissions
Skills Insight has made submissions to the first two rounds of ANZSCO review earlier in 2023 in consultation with relevant stakeholders:
Round 1 – from 1 February to 28 April 2023
Round 2 – from 15 June to 11 August 2023
We are grateful to those who have contributed to survey submissions made by Skills Insight on behalf of the industries we service. Thank you for volunteering your time and expertise!
Future rounds of consultation are due to take place during 2024 on occupation groupings not covered in the first three rounds.