Our work is focussed on supporting a wide range of industries including agribusiness, animal care, timber, furnishing and fibre industries to lead the development and improvement of their national vocational skills and training needs. The VET sector is intrinsically linked to jobs and productivity. It supports Australian industry to be globally competitive. Industry leadership of the VET sector is vital.
Collaboration is the cornerstone to all our activities. We are guided by a comprehensive arrangement of stakeholder networks, and a membership who also contribute to a Stakeholder Forum.
We value input from all stakeholders
Expertise gathered from our networks will inform the insights and advice that will be shared with key decision makers, including governments, Jobs and Skills Australia, and State and Territory Training Authorities. Most importantly, your contribution will support the skills advancement of a group of industries that are crucial to Australia's communities, ecosystems and prosperity.
Opportunities for Active Participation in the Jobs & Skills Council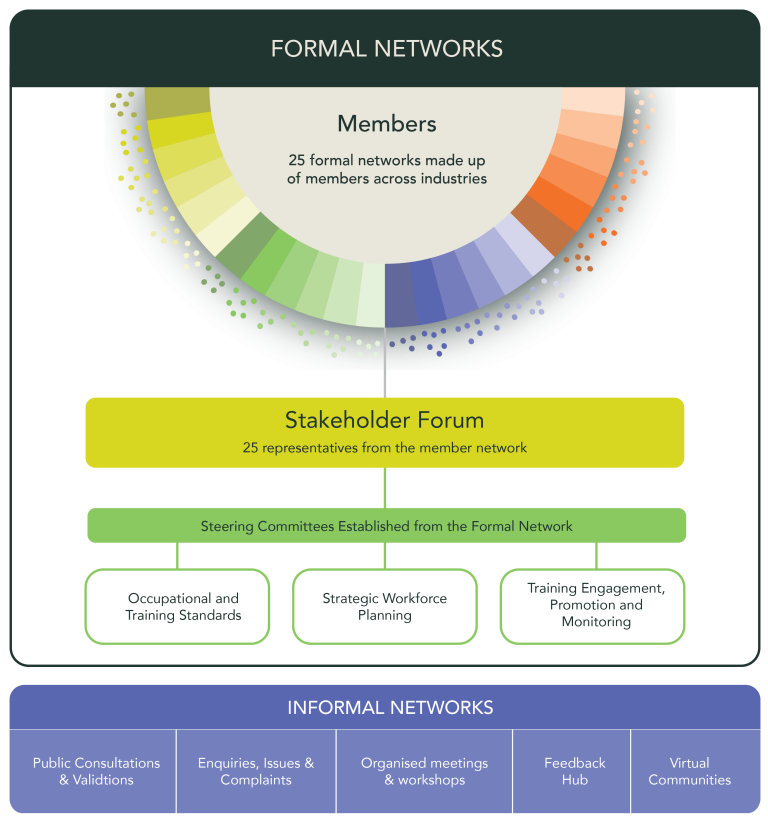 Formal Networks
There are 25 formal networks, made up of as many as 200 industry and association members. Members provide advice to the Stakeholder Forum prior to decision-taking by the Jobs and Skills Council. Each network also nominates a representative and a proxy for the Stakeholder Forum.
Fifteen of these formal networks are industry sector specific and are currently being established by Skills Insight:
Ten of these networks are drawn from the well-established networks of organisations that are large employee or employer representative bodies and/or organisations with large cross-sectoral coverage. They will provide leadership and expertise across the following aspects of the work of the Jobs and Skills Council that is common across all sectors:
Stakeholder Forum
The Stakeholder Forum is a key governance and operational body. Alongside the Skills Insight Board, CEO and management team, representatives lead, prioritise, oversee and provide advice on the areas of JSC operation under the grant agreement. It is made up of 25 representatives from the formal networks, from organisations eligible for Industry Membership. Fifteen representatives will be nominated by the sector specific formal networks. Ten representatives will be from large employee or employer representative bodies and/or organisations with large cross-sectoral coverage. Members on the Stakeholder Representative Forum may have expertise in one or more sector, skills areas or matters of importance, such as respect for Country and climate change. Together, they will represent all industry sectors Skills Insight supports.
Steering Committees
The Stakeholder Representative Forum will establish and oversee three steering committees. The three committees will provide oversight, guidance and recommendations related to the other functions of the Jobs and Skills Council:
Informal Networks
Through various informal networks, all stakeholders are welcome to contribute and share their expertise on skills and VET related issues through various informal networks:
Membership
Membership is categorised as either Industry Members or Associate Members. Membership is free and is made up of organisations who are committed to the vision, mission values and objects of Skills Insight and the Jobs and Skills Council program. Members have the opportunity to participate in the formal networks of stakeholder participation and engagement.
If you would like to be involved in finding potential solutions to national skills and training challenges, we encourage you to become a Skills Insight member.
For further information about membership, read the Membership section of our Governance page or contact us